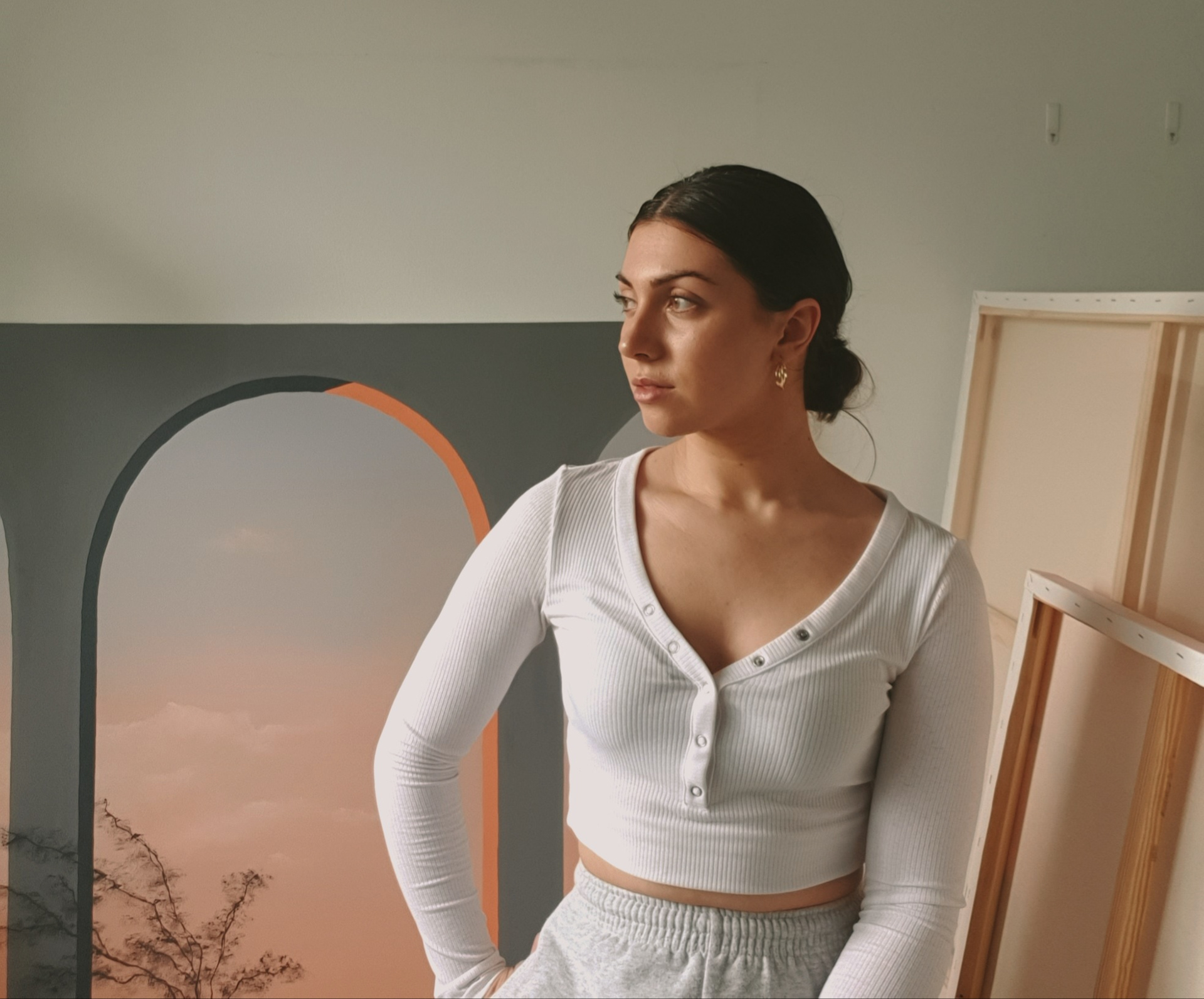 Hannah is an artist, printmaker and illustrator, born in Birmingham, UK. She studied Fine Art at Coventry University, gaining her bachelor's degree in 2016. Hannah has taken part in a number of group exhibitions both locally and further afield. Most recently she took part in Birmingham Design Festival's 'The Creative City' exhibition. 
Hannah's creative practice has undergone significant changes since graduating from university. What began as a fascination for real world urban architecture has morphed and moulded into a desire to create an imaginary world of architecture and nature. This change was propelled by the events of 2020 that required all of us to change how we live, and adapt to a new world. By being confined to her house, Hannah began to fantasise about other, dream-like worlds. Fictional places that are peaceful, calm, and distant to the one we find ourselves in. Using techniques in colour and composition she becomes the architect and creates scenes for the viewer to lose themselves in. Each line, colour and mark is carefully considered to give the greatest impact.
The use of light and shade are equally important aspects in Hannah's work. In order to place a scene in a physical space she uses notions of the rising and setting sun in order to cast large streams of light and shadows into rooms and onto walls. Archways, windows and doors offer a glimpse into the world beyond, often masked by abstracted shapes.
She draws inspiration from many different areas. She often looks to traditional Chinese and Japanese paintings to understand more about the symbolism within mythical worlds. Her prints 'Celestial' and 'Féline' highlight this influence. Additionally, Edward Hopper is an artist who Hannah admires for his ability to capture a sense of light and calm; filtering his influence into the work she makes.
The Creative City, Exhibition Catalogue, 2021
The Classified Issue, 'Here Comes Everyone' Mag, 2019
The Creative City, Birmingham Design Festival, The Custard Factory, Birmingham, 2021
IKON for Artists, IKON Gallery, Birmingham, 2021
​​​​​​​
RBSA Prize, RBSA Gallery, Birmingham, 2020
Illustration + Print Open, Deptford Does Art, London, 2019
Spaghetti Intaglio, Richmond Art School, London, 2019
RBSA Open All Media, RBSA Gallery, Birmingham, 2019
Coventry Drawing Prize, Blue Door Gallery, Coventry, 2019
RBSA Prize, RBSA Gallery, Birmingham, 2018
Coventry Drawing Prize, CET Building, Coventry, 2018
Re-Framed, The Pod, Coventry, 2016
Weeds and Dust, Glassbox Gallery, Coventry, 2016
Free Range, Old Truman Brewery, London, 2016
Fully Furnished, Coventry University, Coventry, 2016
Box Room, Glassbox Gallery, Coventry, 2015
3CityLink, Lanchester Gallery, Coventry, 2014
IT IS WHAT IT IS, Graham Sutherland Building, Coventry, 2014
The Craft & Flea Market, Birmingham, 2021
The Craft & Flea Market, Coventry, 2020
CreativeBabesClub Virtual Market, 2020
Virtual Craft & Flea Market, 2020
Crafty Fox Market, London, 2020
Fine Art Auction, Degree Show Fundraiser, 2016
Carole Raymond Prize for Art, 2014